Carbonnade a la Flamande… (happy sigh + a smile)… This traditional Flemish beef stew is made with strong Belgian ale and has deep, earthy, sweet and slightly sour flavors. The beef is so succulent that you will naturally classify this beer stew under comfort food. Comforting it is and also demanding of a Belgian ale to be paired with:) We obliged.
Actually, the idea to make Carbonnade a la Flamande was in part due to the fact that the Belgian tripel Chris made a few weeks ago is now perfect to drink. The other part was the outside temperatures stubbornly hovering in the 25-32°F range.
(This post was originally published on March 2, 2017. I am updating it to include a short video and an updated picture of the ingredients (solely due to the fact that New Belgium Brewing changed the design of its labels:) The new picture features the current look of the Belgian Dubbel we used to cook the dish). 
The carbonnade (/ˌkɑːbəˈnɑːd/; a French word that means a thick stew of beef, onions, herbs, etc., cooked in beer) originated in a region now called French Flanders in the north east part of France, just south of Belgium. This region was once part of the feudal state County of Flanders, then part of the Southern Netherlands((https://en.wikipedia.org/wiki/County_of_Flanders)). Hence, the stew is sort of a shared traditional dish for several regions of modern day Europe, but because a rich Belgian ale is called for, Carbonnade a la Flamande is often considered a Belgian stew, whereas it is more precise to call if Flemish. 
Given the history of the dish, there are a number recipes out there and even though they offer slight variations, the main ingredients are always the same. We chose a recipe by Nigella Lawson, my looong time favorite comfort food magician. Since her recipe can truly feed a group of 8-10 people (and what a great way to make an amazing meal for a large group without having to spend too long in the kitchen), we scaled it down a bit.
Our ale pick is the multi-award winning New Belguim Abbey, a Belgian style dubbel ale, brewed right here in our town. It has always been one of our most favorite Coloradan beers and New Belgium Brewing Co. is one of our favorite craft breweries. If you ever come to Fort Collins, be sure to take their brewery tour, we always take our guests and everyone loves it.
Otherwise, classic Belgian beer options include Chimay and Duvel, but you can also use the Ommegang Abbey Ale (OMG, is it good) and even consider a dark ale that is sweet with a strong malty backbone and not too hoppy.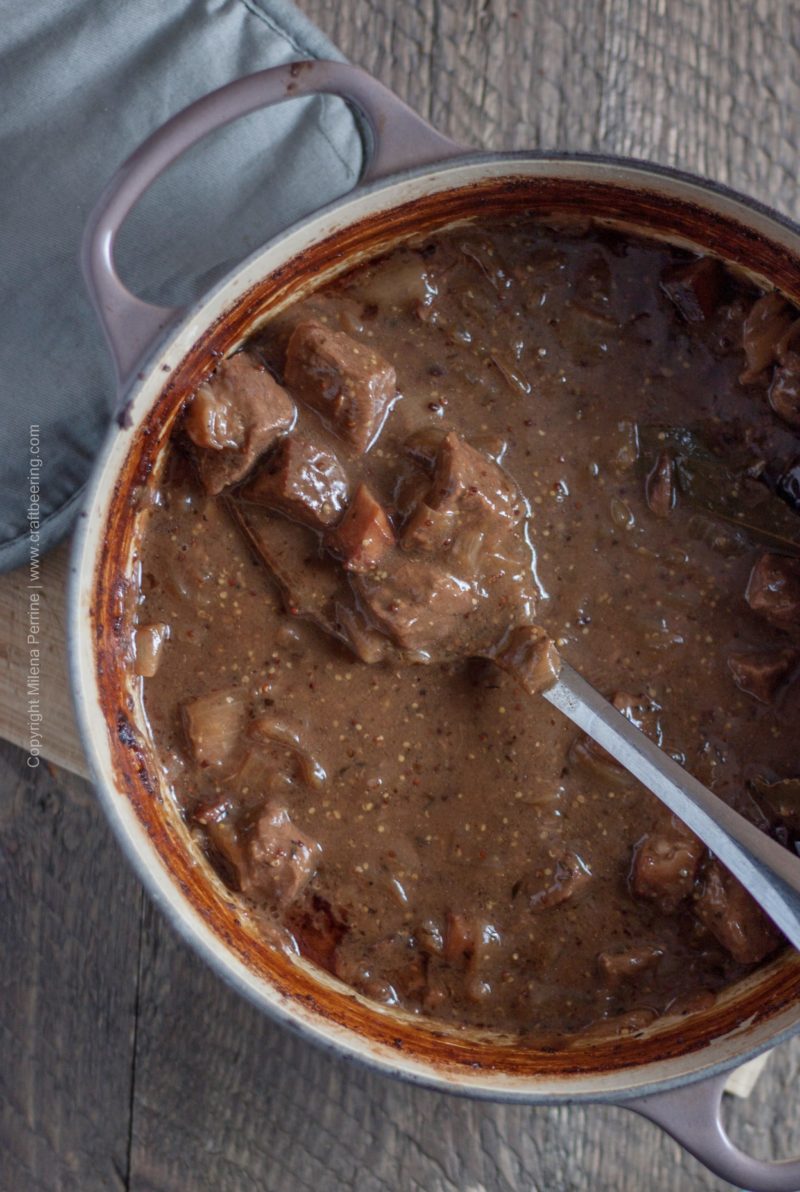 This stew! Being a lover of smoked pork I am all for the tasty lardons in the carbonnade. We used hickory smoked pork jowl. Delicious, I tell you. I had bought some watercress for garnish because I thought its subtle, peppery flavor will complement the stew nicely. Chris is watercress-ed-out, since he uses it at work…perhaps too often, so he passed on the garnish. I loved it though. Other ideas include adding baked croutons and grated cheese on top of the stew while still in the pot, then placing the whole thing under the broiler for a minute or two.
Serving suggestions for Carbonnade a la Flamande
I made butter and heavy cream loaded mashed potatoes because I consider mashed potatoes the ultimate in comfort food sides. But carbonnade is often served with noodles or fries.
I can also see the stew partnering with white rice, but an even better suggestion is to ladle some carbonnade into a freshly baked bread bowl. And to take this up a notch, why not a beer bread bowl? You can bake your own if you follow Rachelle's recipe for Beer Bread Bowls. She knows what she is doing.
Finally, just to be sure that we really emphasized this – this stew pairs perfectly with Belgian ales. Chris' Belgian tripel was outstanding with this dish, but so is the Abbey ale itself.
If you enjoyed spending time on Craft Beering we sincerely invite you to join us on Instagram, Facebook, & Pinterest or enter your e-mail in the subscription box at the bottom of each post (we'll send you a list of all new posts every two weeks).
Recipe for Carbonnade a la Flamande
Carbonnade a la Flamande - Beef Stew with Belgian Dubbel Ale
Succulent beef slow cooked in rich Belgian ale. Pair with more Belgian ale for a slice of heaven.
Total Time
3
hours
15
minutes
Ingredients
2

lbs

beef shank or chuck cut into small cubes

1

cup

of smoked pork lardons or bacon cut into small pieces

pork jowl works great

3

medium yellow onions

chopped

1 2/3

cups

beef stock

2

cups

dark Belgian ale

1

tbsp

unsalted butter

1/4

cup

flour

2

tbsp

whole grain mustard

2

tbsp

soft brown sugar

2

tsp

dried thyme

3

bay leaves

1

tsp

ground allspice

1

tsp

salt

pinch

of black pepper
Instructions
Turn oven on to 300° F.

Heat a large heavy pot (with a lid) over medium-high heat and melt the butter.

Add the lardons and cook them until crisp.

Turn the heat down to medium-low and add the onions. Stir well and cook until translucent.

Add the dried thyme and ground allspice and mix them with the onions and lardons.

Add the beef cubes, dust them with flour and turn them around a few times.

Add the mustard and brown sugar and stir.

Add the beef stock and beer and stir again.

Turn up the heat and bring to a boil.

Add the bay leaves, salt and pepper, give a final stir and cover with the lid.

Put the covered pot in the oven and cook for 3 hours. Check to see if the meat is fork tender (it should be) and if needed cook for another 30 mins.